Kavita Ramdas delivers a TED talk about growing up in India as a woman in science
Tuesday 21 July 2015 at 1:43 pm.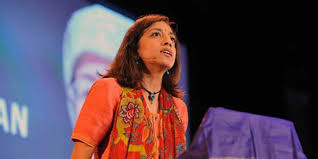 Many countries accept the tradition of mistreating and under-representing women. In third world countries, like Afghanistan, women are expected to stay home, stay ignorant and uneducated, follow the men's rules, and follow tradition. However, underground schools, fearless women, and an overwhelming amount of global supporters are breaking these traditions.
Beyond involving women in science, or even giving women an education, third world countries deprive women of basic equal rights. However, strong women and the need for societal change is driving these new protests and opposition to the traditional rules of society. Kavita Ramdas expresses women in three countries who are taking ideas from Western-style empowerment to the rules of traditional culture. These are exceptional women who are "fighting to make the world better, while preserving the traditions that sustain them."
However, Ramdas does not discuss how to empower or save women, but how women are saving us. They are "redefining and re-imagining" the future. How can women in third world countries accept the modern world, while keeping their old traditions? Can oppression become opportunity?
"It is in these little stories, these individual stories, that I see a radical epic being written by women around the world. It is in these threads that are being woven into a resilient fabric that will sustain communities, that I find hope. And if my heart is singing, it's because in these little fragments, every now and again, you catch a glimpse of a whole new world. And she is definitely on her way."
Ramdas' lecture opened a completely new perspective on modern women's struggles. In most third world countries, tradition is taken very seriously. However, women are usually wrongly inflicted through these old "traditions." Women are denied the basic needs and equal opportunities as men, let alone equal numbers in the STEM workforce. Ramdas' lecture is truly inspiring and let you stop and think for a moment about this new modern world.